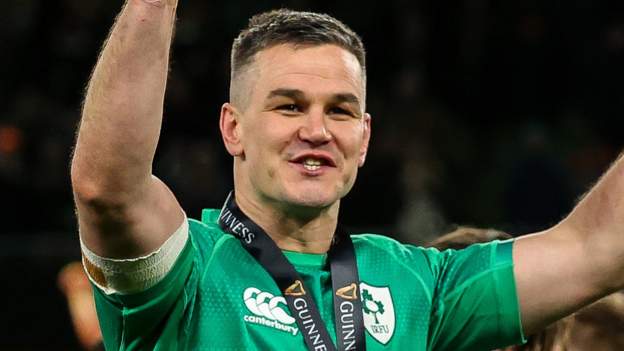 Emotional Ireland captain Johnny Sexton has described winning the Grand Slam and Six Nations title as "like living in a dream".
Ireland secured their fourth Grand Slam success, and first since 2018, with a hard-fought 29-16 victory over 14-man England in Dublin.
A dramatic Six Nations finale turned in the hosts' favour when visiting full-back Freddie Steward was sent off just before half-time.
"I couldn't make it up," Sexton said.
"Honestly, I couldn't make it up. It's like living in a dream - I'm actually worried I'm going to wake up in the morning.
"We didn't play our best, but what a team. What a team. What a group of coaches, they prepared us so well.
"We did nothing that they told us [in the win over England], we did the exact opposite. We made things hard for ourselves but, look, England are a top-class team.
"To come here and get a win on St Patrick's weekend, it's unbelievable. What a day. Unbelievable."
'We spoke about this day eight weeks ago'
Sexton, 37, was playing in his last Six Nations match - he will retire after the World Cup in France this year, and marked it by becoming the leading points scorer in the competition's history.
Going into Saturday evening's match level with compatriot Ronan O'Gara on 557 points, the talismanic Leinster fly-half kicked three conversions and a penalty before limping off with 10 minutes remaining at Aviva Stadium.
"Like I said in the week, this is what you dream of as a kid," Sexton continued. "To have my family here today watching, it's dream-come-through stuff and I'm pinching myself."
Ireland had to grind a stubborn England down in Dublin after looking nervous during a below-par first-half which they finished with a 10-6 lead thanks to a fine Dan Sheehan try.
Further tries after the break from Robbie Henshaw and Rob Herring, and another from man-of-the-match Sheehan, took the game away from the visitors, leading to joyous celebrations from an ecstatic home crowd at the end.
"It's the emotion of the team," a jubilant Sexton said when asked to describe his emotions immediately after full-time.
"We set out to win the Grand Slam at the start of the year. We had a Triple Crown last year, we wanted to build on that and it came down to today.
"We talked about this day eight weeks ago and we finally got to the big final. We didn't quite nail it but we did enough, and I'm so proud of the lads to stay in it. Thank you to everyone in here today, it was an unbelievable atmosphere."
'It doesn't feel like the end'
Having graced the Six Nations for so many years, Sexton spoke highly about what the competition means to him while also reaffirming that he and this Ireland team remain focused on aiming for World Cup success this autumn.
"It's the best tournament you can play in [the Six Nations], it's the best country you can play for," he said.
"It's an incredible group of people. We're so proud to be Irish and when we come out here, we want to show that to everyone. I think we do that - win, lose or draw - and that's the main thing,
"It doesn't feel like the end. There's plenty more left in this team to keep building. We certainly need to improve on today, we'll be back and we're going to need all this support in four or five months' time."
'One of - if not the - best Ireland have ever produced'
Ireland head coach Andy Farrell had high praise for Sexton, suggesting he could be Ireland's best-ever player, and revealed that he had to encourage his captain to lift the Six Nations trophy on his own.
"Hopefully there's bigger fish to fry for Johnny with the World Cup. It's unbelievably fitting for him to have this moment and lift the trophy," he told ITV Sport.
"He wanted to lift it [the trophy] with someone else and I said he mustn't because he has got to do it and relish the moment on his own. He deserves it.
"He is one of the best - if not the best - that Ireland has ever produced and what a way for him to go out of the Six Nations, lifting the trophy and a Grand Slam."
England made a strong start to the second half, despite being down to 14 men, and for a spell there was only one-point separating the sides - something Farrell acknowledged as he assessed his side's performance.
"It was squeaky bum time for a while as far as 10-9 is concerned," he continued.
"Credit to France for the pressure they have put on us over the last couple of games. It was just win at all costs, wasn't it. The game was stop-start, it was a proper old-fashioned Test match.
"We are disappointed with some aspects of our game but we have a bonus-point win again and I think that is where we are at at the moment."