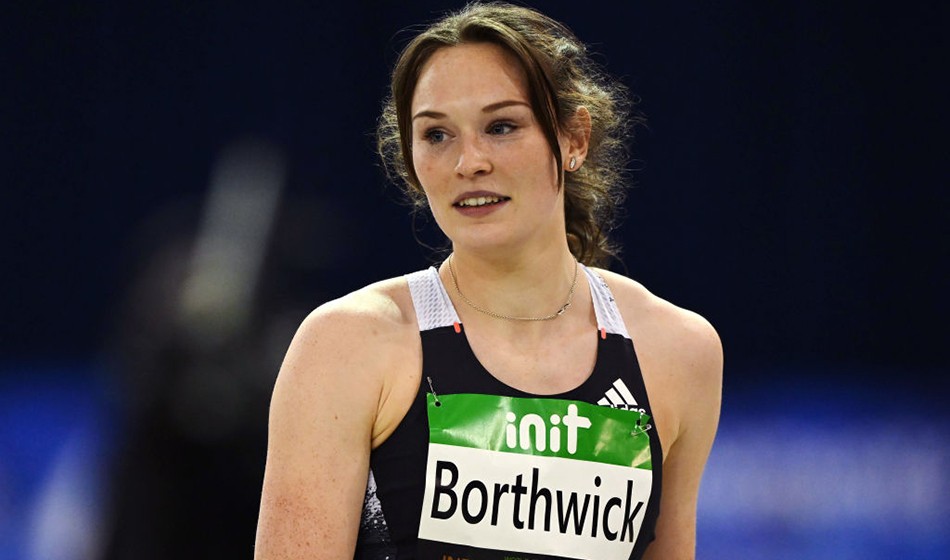 British high jumper finishes equal first at World Indoor Tour Gold meeting in Karlsruhe with an indoor PB of 1.91m as the event also sees victories for Mondo Duplantis, Berihu Aregawi and Elliot Giles
Emily Borthwick tied for first place with Imke Onnen of Germany at the INIT Indoor Meeting in Karlsruhe on Friday (Jan 28) after equalling her indoor PB of 1.91m in the high jump.
It was one of the highlights of the night as Mondo Duplantis also soared to 6.02m in the pole vault before attempting a world record of 6.19m. British middle-distance runner Elliot Giles was also in winning form in the 800m.
"What a night," Borthwick posted on social media. "Amazing first competition @indoormeetingkarlsruhe !! Grateful to my amazing support team for getting me through the last 6 months. ?? LETS GO!!!!!!!!"
Borthwick cleared 1.75m, 1.80m and 1.84m at her first attempt before going over 1.88m at her second try. Both the Briton and Onnen then went over 1.91m at their third attempt.
In a high standard competition the former world junior gold medallist Marija Vukovic of Montenegro was third while Yuliya Levchenko of Ukraine – a former European under-23 champion and silver medallist from the 2017 World Championships – was fourth, with both athletes clearing 1.88m.
Levchenko and Vukovic were also eighth and ninth in the Olympic final last year.
The 24-year-old Borthwick has had a difficult winter due to the recent tragic death of her younger brother, Connor, in an industrial accident.
READ MORE: Borthwick launches fund-raising page in memory of brother
The Wigan & District athlete is one of British athletics' rising stars as she equalled her outdoor PB of 1.93m in the Olympics last year to narrowly miss out on qualification for the final. And she has started this season in great form as she builds toward the UK Athletics Indoor Championships in Birmingham and possibly the World Indoor Championships in Belgrade in March.
In the pole vault Duplantis enjoyed a flawless series up to 6.02m, which was a world lead and meeting record as runner-up KC Lightfoot jumped 5.89m. The Swedish athlete then failed in his attempt to clear 6.19m but says he is in shape to threaten the world record again soon.
"Tonight was really special," he said. "Especially because we really haven't had spectators in a few years. That fan interaction is a whole different experience."
This was the 38th edition of the Karlsruhe meeting and it is part of the new World Indoor Tour Gold series.
Another highlight was Aregawi winning the 3000m in 7:26.20 – the fifth fastest time in history and close to Haile Gebrselassie's meeting record of 7:26.15 from 1998.
The Ethiopian, who won the Diamond League 5000m final last year and who broke the world 5km record on New Year's Eve, went through the first mile in 3:56 but faded a little in the closing stages. Spain's Adel Mechal was runner-up in a PB of 7:36.57.
After a stunning indoor season last year which saw him smash Seb Coe's long-standing UK indoor record for 800m, Giles began his 2022 campaign with a slower time of 1:46.78 but he looked strong and confident as he held off the fast-finishing Andreas Kramer to win.
"Last year, I only arrived in Karlsruhe on the day of the race because I lost my passport the day before," said Giles. "That was a crazy one, but this year was a bit more grounded.
"I didn't really have a tactic for the race. I just figured out 'let's see, first race of the season, you don't really know where you are'. It was really close in the end, I just had to keep my composure and I had to dip. But a win is a win!
"I'm going to have a go at the indoors, a go at the outdoors and take it from there. I don't have any special goal though. In truth, I can only focus on the next race. I would like to win the world indoors, but I don't want to think too far ahead."
Elsewhere, Pascal Martinot-Lagarde clocked a world lead of 7.54 in the 60m hurdles with British athletes Dave King and Andy Pozzi finishing at the back of the field in 7.73 and 7.75.
The women's 800m saw world champion Halimah Nakaayi run a world lead of 2:02.81, while Axumawit Embaye clocked a 4:02.12 world lead in the women's 1500m narrowly ahead of fellow Ethiopians Hirut Meshesha and Freweyni Hailu.